Books Between Bites - June 1st - Cloud Cuckoo Land, Author: Anthony Doerr - Presenter: Richard Fiala (see below)
Second Saturday Book Sale - The next Second Saturday Book Sale will be on June 11th on the second floor of the library. Also we are having sales on Mondays and Thursdsy (see info below)
Honor System Book Sale Shelf - Check out our honor system book sale shelfs near the reference desks of the library, where we have used books, audiobooks, and large print books for sale.
Amazon Smile - Support FOL in Decatur by signing up for the Amazon Smile program! Go to smile.amazon.com to sign up, or go to Amazon and type in Amazon Smile in the search bar. Our group is "Friends of the Decatur Public Library Inc". Amazon Smile donations add up! Thanks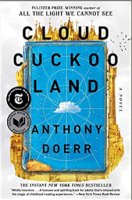 Books Between Bites - Please join us June 1st at 12:15 in the Decatur Public Library Madden Auditorium Book Title: Cloud Cuckoo Land Author: Anthony Doerr Presenter: Richard Fiala
Richard or "Dick" to most of his friends and family was born and raised in Chicago as was his wife, Doris. He graduated from University of Illinois with a BS degree in Chemistry in 1952 and earned a second degree in Chemical Engineering in 1954. Dick and Doris were married in Feb 1955 and moved from Texas to Decatur in 1957 when Dick started his career at A.E. Staley Mfg. Co. Three of their four children were born in Decatur; all four attended Oak Grove and MacArthur High School. All four have done very well which he attributes to Decatur Public School system. Dick and Doris enjoyed traveling, their couples club, First Presbyterian church groups, bridge, golf and grandchildren and great-grandchildren of which there are currently 16. Doris passed away in 2019. Dick belongs to a family book club in which he and his children and grandchildren take turns choosing books for the entire family to read.
The novel, Cloud Cuckoo Land, written by Anthony Doerr, author of the Pulitzer Prize-winning All the Light We Cannot See, was on the New York Times bestseller list for 19 weeks, was a New York Times Notable Book, a Barack Obama Favorite, a National Book Award Finalist, and named a Best of the Year by Fresh Air, Time, Entertainment Weekly, Associated Press, and many more. Cloud Cuckoo Land consist of three unique and independent stories covering a period of 800 years, yet intrinsically linked together by an inane, comical Greek myth written by Antonius Diogenes in 3 BCE titled Cloud Cuckoo Land. Second Saturday Book Sale will be 9:30-12:30 June 11 at the Decatur Public Library. Also, weekly book sales on Mondays 10:30-1:30 and Thursdays 12:30-3:30.
Second Saturday Book Sale - The Friends of the Library will hold the next Second Saturday Book Sale on June 11th, 2022 at our regular time from 930 until 1230 on the second floor of the library.
We are also having weekday book sales on Mondays 10:30-12:30 and Thursdays 12:30-3:30.
See you there! Thanks!