Books Between Bites -
Join us for the next BBB on February 2nd. Verlyn Rosenberger will review
A Stranger at my Door: Finding my Humanity on the U.S./Mexican Border
by Peg Bowden.
Second Saturday Book Sale - The next Second Saturday Book Sale is on February 12th on the second floor of the library. See info below.
Honor System Book Sale Shelf - Check out our honor system book sale shelfs near the reference desks of the library, where we have used books, audiobooks, and large print books for sale.
Amazon Smile - Support FOL in Decatur by signing up for the Amazon Smile program! Go to smile.amazon.com to sign up, or go to Amazon and type in Amazon Smile in the search bar. Our group is "Friends of the Decatur Public Library Inc". Amazon Smile donations add up! Thanks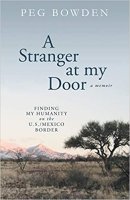 Books Between Bites - Feb 2, 2022 - Please join us for Books Between Bites on February 2nd at 12:15 in the library's Madden Auditorium. Our guest speaker will be Verlyn Rosenberger, a retired District #61 teacher of over 31 years. Verlyn is also a Master Gardener, a long-time member of Decatur Audubon Society where she is currently Vice- President of Programs. She is Conservation Chair of the Garden Club, an active member of First Presbyterian Church and president of Holiday Hills Neighborhood Organization.
Verlyn will be reviewing the book A Stranger at my Door: Finding my Humanity on the U.S./Mexican Border by Peg Bowden. The book is a memoir of the author's personal odyssey of challenge, failure and redemption after a desperate immigrant appears at her home in Arizona. Books Between Bites is a free program at the Decatur Public Library, sponsored by the Friends of the Library. All Covid protocols in effect at the time of the presentation will be followed.
Second Saturday Book Sale - The Friends of the Library will hold the next Second Saturday Book Sale on February 12th, 2022 at our regular time from 930 until 1230 on the second floor of the library.
Please watch your step in the construction area, and wear a mask. Thanks!