About Us
Friends of the Library Board Members for 2022 are: Linda Castleman - President, Connie Peters - Vice President, Ruth Sublett - Chairperson of Books Between Bites, Sue Maxwell - Chairperson of Book Sales, Tim Rooney - Chairperson of Membership, Joan Mochel - Chairperson of Book Sorting. The other board members are: Patty Barr, Brenda Fleckenstein, Byran Hedenberg, Patricia Lathram, Janet Palmer, Debbie Perry, Charles Smith, Faith Vaught, and Richard Virgin. Our Secretary is Christl Smalley, and our Treasurer is Shawn Perkins.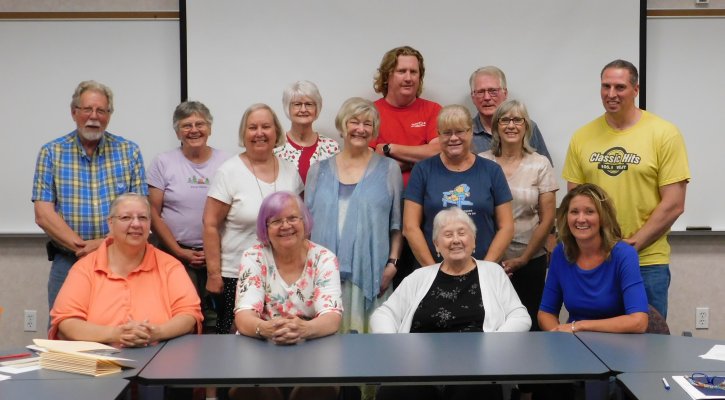 Pictured: (Seated) Christl, Faith, Connie, and Shawn. (Standing) Richard, Joan, Patty, Debbie, Patricia, Bryan, Brenda, Charles, Ruth, and Tim. The Friends of the Decatur Public Library Board is a state registered Non-Profit org The board of directors is comprised of 19 members including four non-voting members. These four are the Secretary, the Treasurer, a representative from the Decatur Public Library Board of Trustees, and the City Librarian, Rick Meyer, or designated representative. Each voting board member serves on a committee: Finance, Public Relations, Books Between Bites, Book Sales, and Membership.
Members of the board serve three-year terms. They can serve two terms consecutively but then must wait two years to re-apply.
Contact Us
Address:
Friends of the Decatur Public Library
130 N. Franklin St.
Decatur, IL 62523

Phone: 217-424-2900, ext 133

Email: folwebmaster@decaturlibrary.org