Books Sales Are Back! We are starting up FOL booksales again in the new Friends area on the lower level of the library. Starting August 7th, every Monday from 10:30am – 2:30pm, Tuesdays from 10:30am – 2:30pm, Thursdays from 3pm – 6:30pm. Second & Fourth Saturday Sales will be from 9:30am – 12:30pm
Books Between Bites - October 4th, 2023 at 12:15 in the Decatur Public Library - Books: Chicago's Great Fire: the The Destruction and Resurrection of an Iconic American City. Carl Smith. And Firestorm at Peshtigo: Its People, and the Deadliest Fire in American History. Denise Gess and William Lutz. Reviewer: Nancy Peterson (More info below)
Books Between Bites - Please join us October 4, 2023 at 12:15 in the Decatur Public Library's Madden Auditorium for our monthly Books Between Bites review.
Books: Chicago's Great Fire: The Destruction and Resurrection of an iconic American City. Carl Smith; Grove Press, 2020. Firestorm at Peshtigo: A Town, Its People, and the Deadliest Fire in American History. Denise Gess and William Lutz; Holt, 2002.
Reviewer: Nancy Peterson Nancy Peterson is a Decatur native. She retired from the Decatur Public Schools after thirty-plus years as a high school librarian. Fortunately, that did not sour her love of books and reading—and she still likes teenagers, too!
The worst fires in the history of the Midwest occurred in the same week in October, 1871. Everyone has heard of the Great Chicago Fire; it has spawned cliches, urban legends, and numerous stories, some true. Less than 150 miles north, the fire around Peshtigo, Wisconsin, destroyed more area and lives, yet few people know anything about it. These books detail the destruction and aftermath, and look at why we remember them still.
Books Between Bites is a free program at the Decatur Public Library, sponsored by the Friends of the Decatur Library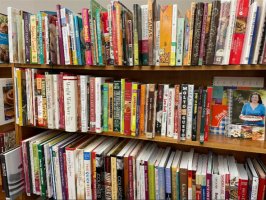 Second Saturday and Weekly Book Sales Are Back! Starting August 7th. We are starting up FOL booksales again in the new Friends area on the lower level of the library. Every Monday from 10:30am – 2:30pm, Tuesdays from 10:30am – 2:30pm, Thursdays from 3pm – 6:30pm. Second & fourth Saturdays sales will be from 9:30am – 12:30pm.
Come see us in our new home on the lower level of the library!